Regular price
$329.99
Sale price
$263.99
Unit price
per
-20% OFF
Sold out
View full details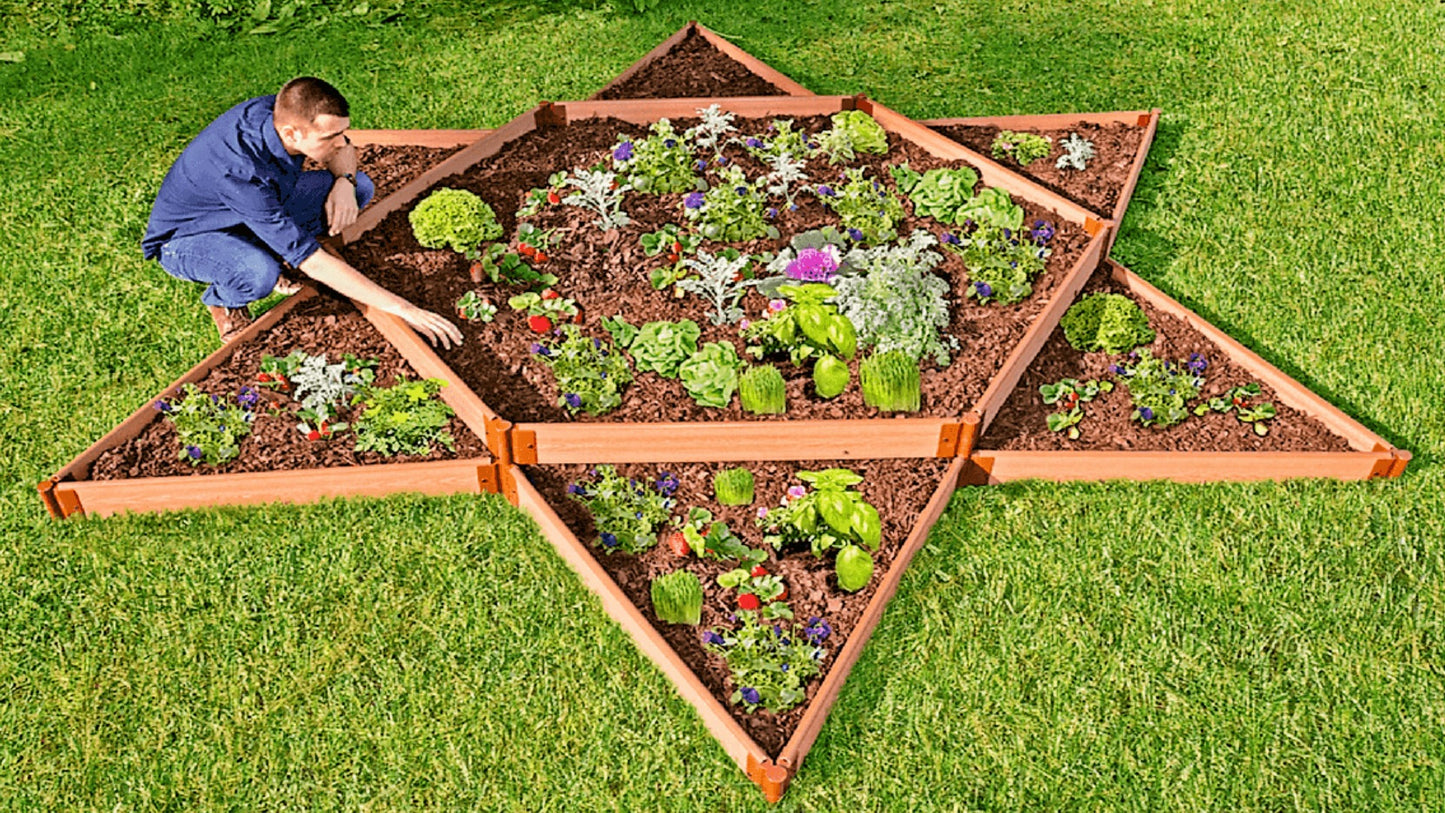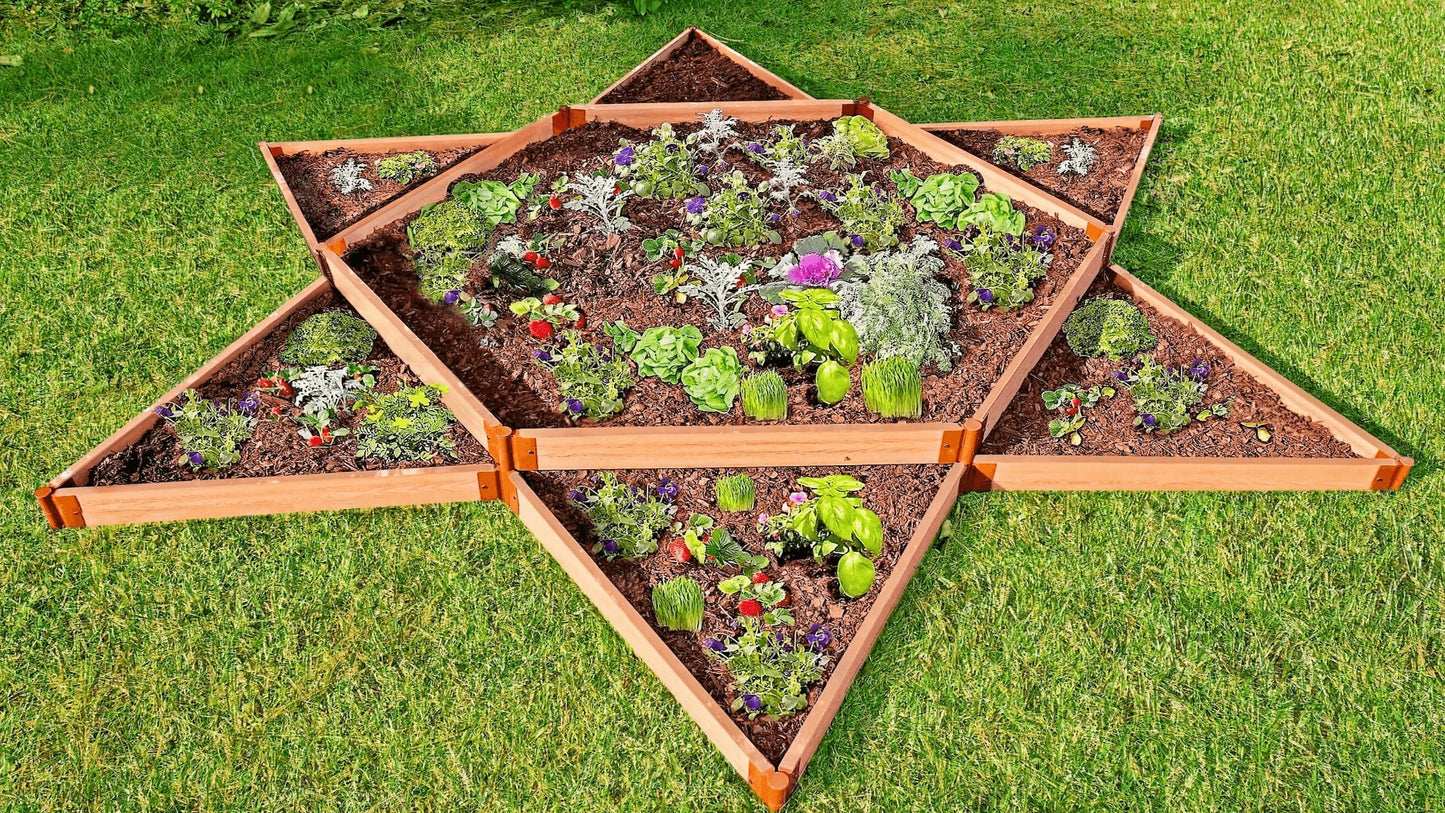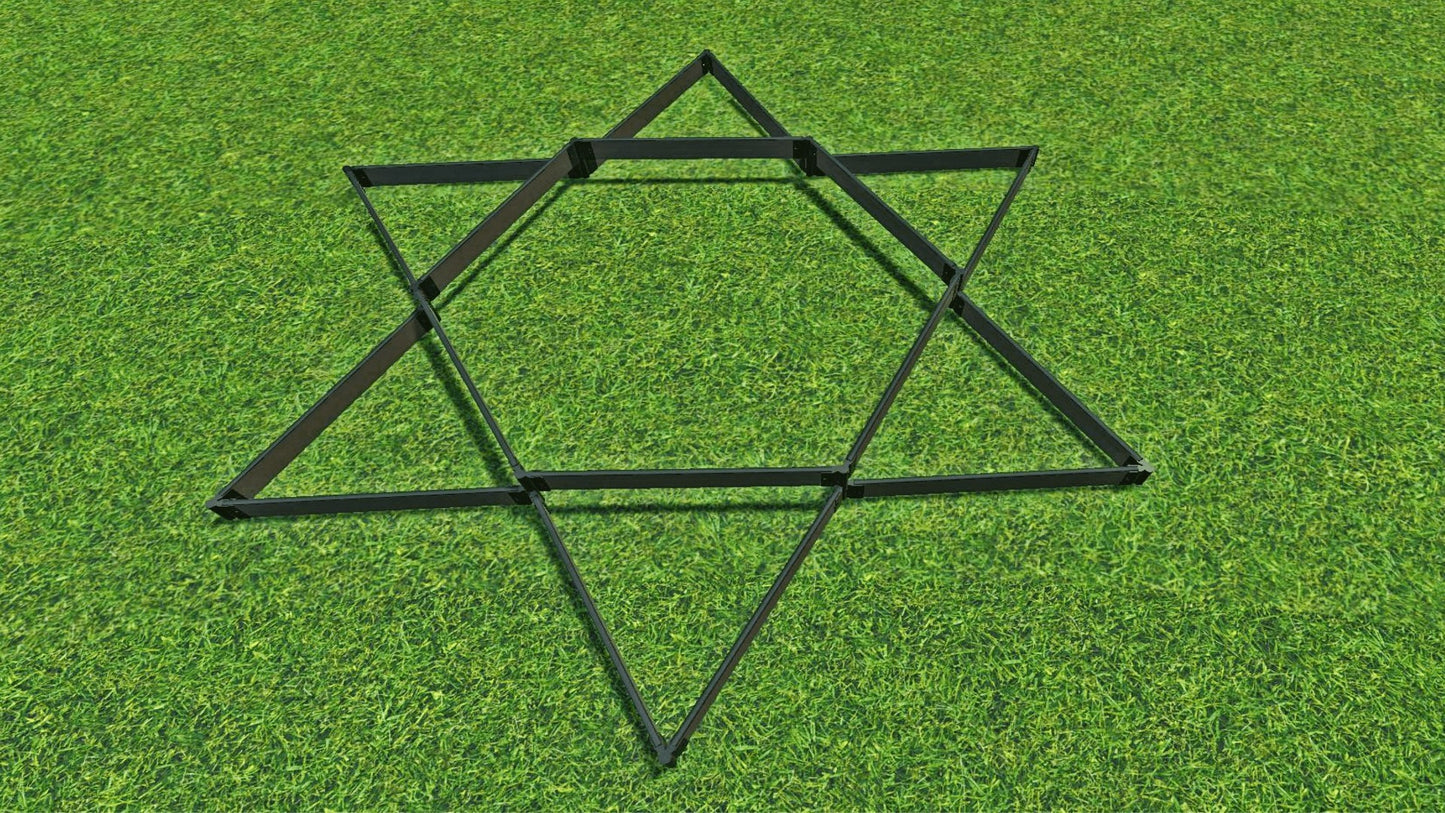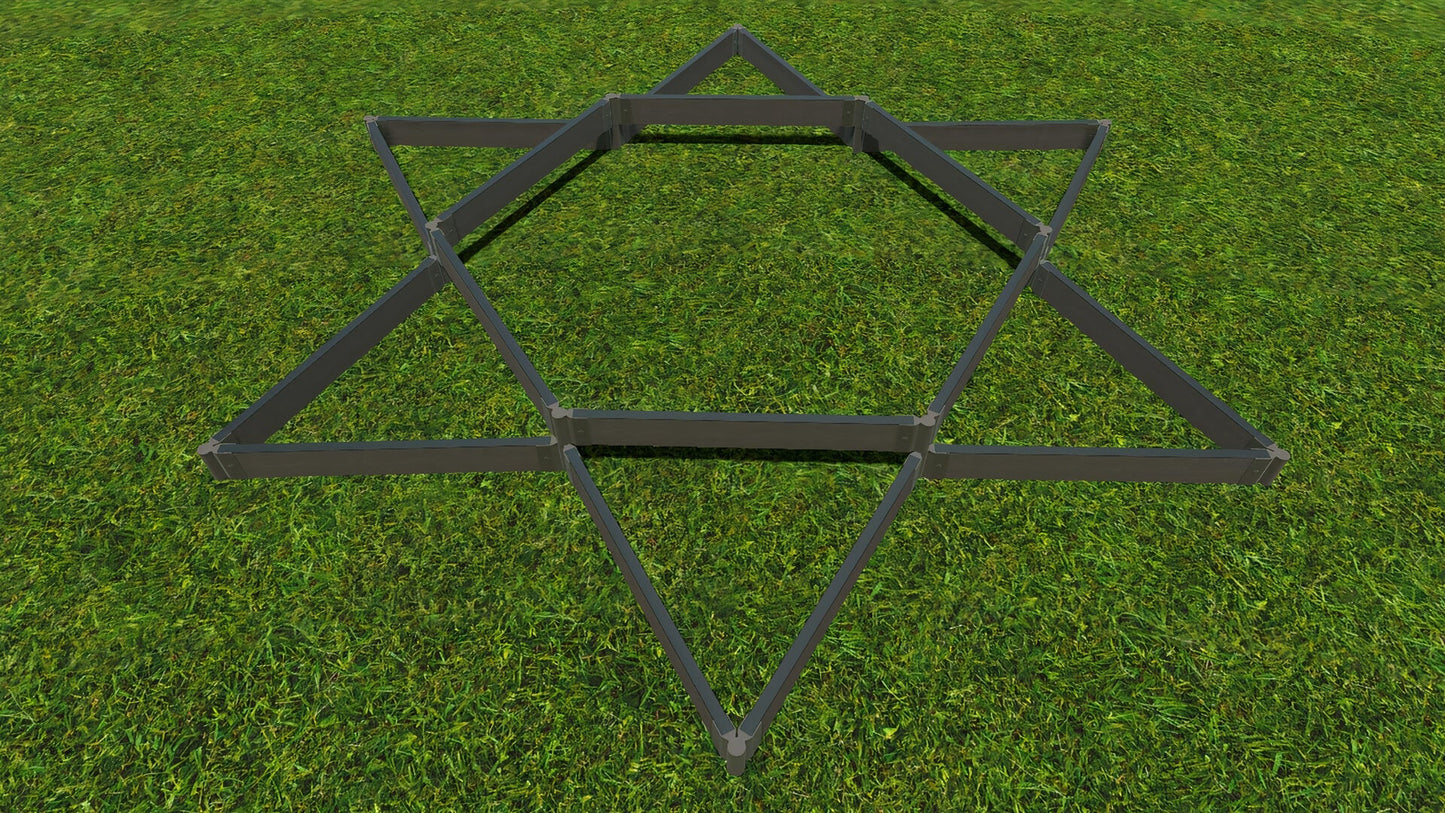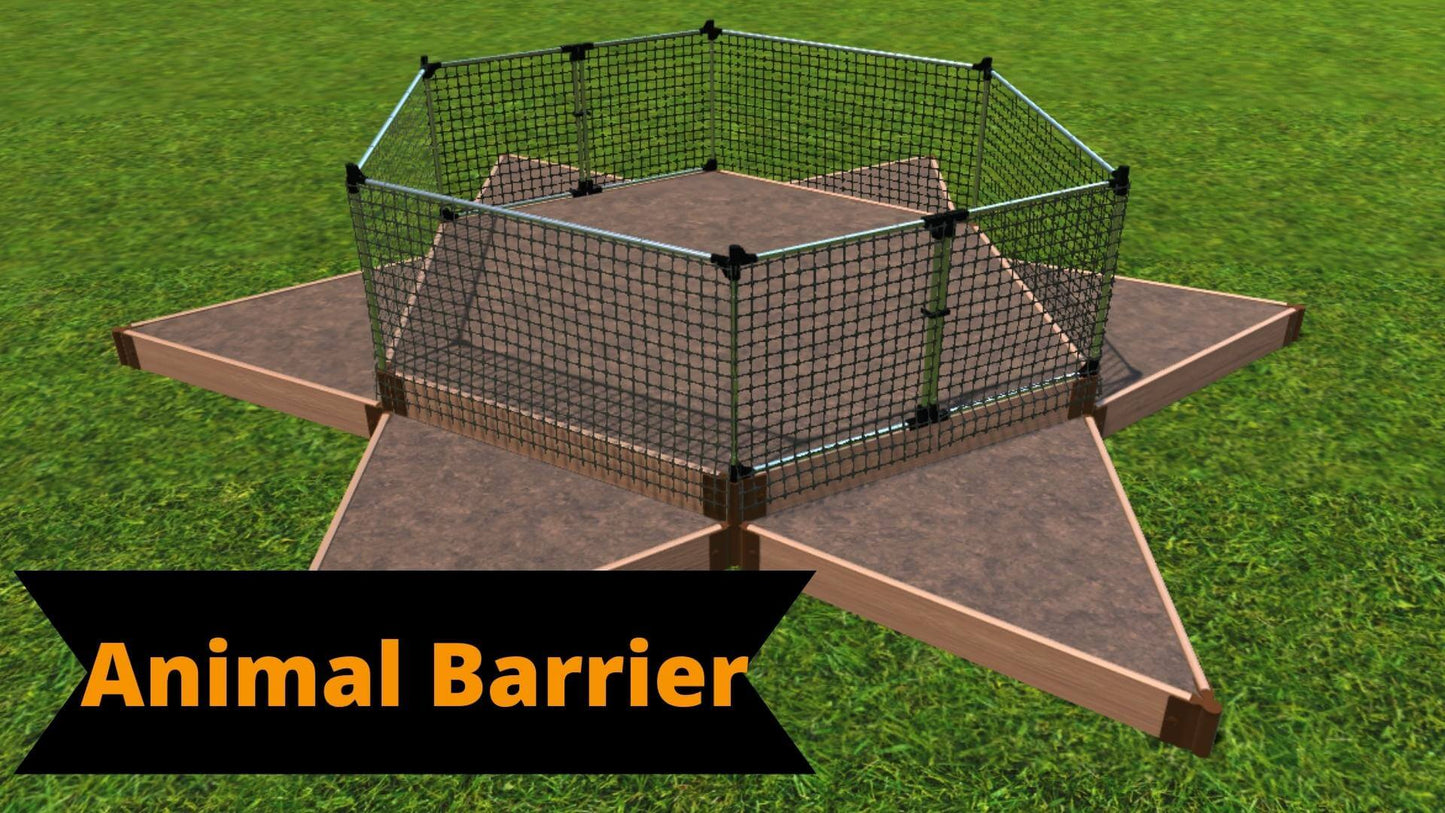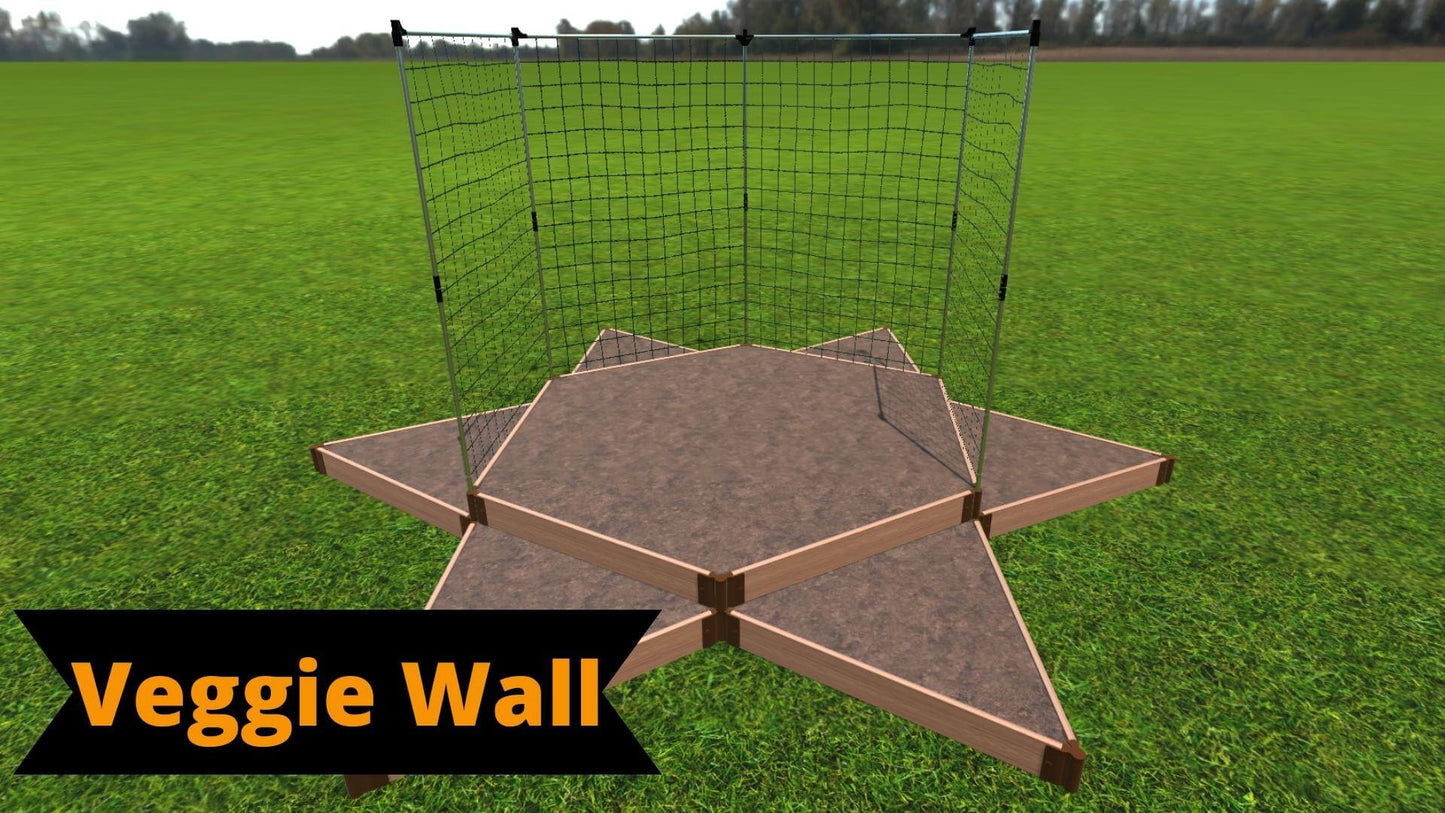 Product Features
The equivalent of 97 single-use plastic bottles are diverted from oceans and landfills to make each 4 ft. 2" Profile composite board!
Food-safe composite boards are made from 38% HDPE Plastic and 62% Certified Sustainably Sourced Wood Fibers.
Snap-Lock brackets – simply slide and snap
Composite boards feature textured wood-grain finish that blends into any environment
Limited Lifetime (registration required) / 5-year warranty (no registration required)
Durability and low-maintenance – unlike cedar, composite boards are designed for durability. Boards will not rot, splinter or disintegrate. Bug & Termite Resistant.
Easy to install
Product Description
The 12 x 12 Garden Star Raised Garden Bed
The 12' x 12' Garden Star Raised Garden Bed is ornate, magnificent, and unique – just a few of the superlatives that come to mind when describing it! Sensational from every angle, it will provide a beautiful eye-catching focal point for your yard or garden.
The upper level bed would suit taller flowers such as Shasta Daisies or Black-Eyed Susan's to create height. Plant colorful annuals in each of the six lower level beds or perhaps create a berry garden with Blueberries, Raspberries and Strawberries.
Each planting area can also be used for different herbs or low-growing veggies, while the center section is perfect for luscious tomatoes, fragrant herbs or even peas or beans. Veggies including artichoke, arugula, asparagus, lettuce, pole beans, beets, carrots and cabbage will all thrive in this raised garden bed.
Animal Barrier Protection
Anyone who has ever tried to grow their own fruits, vegetables, or flowers knows that there is nothing more frustrating than finding your hard garden work destroyed by pests. Whether it's rabbits munching on your lettuce or deer nibbling your roses, these critters can quickly ruin an entire garden. Fortunately, there is a simple solution - our Animal Barrier Kit . This easy-to-install fencing creates a wall of defense around your garden, keeping out unwanted visitors. The best part is that our Terrace Connectors make it easy to install the fencing on a terraced design, so you can protect your garden even if it's a terraced design like the Garden Star. Don't let pests ruin your gardening efforts - try our Animal Barrier kit today!
Looking for a way to add some vertical interest to your garden? Our Veggie Wall Kit is the perfect solution! Whether you want to grow tomatoes, beans, or any other type of vine crop, our kit makes it easy. The joints pivot 270 degrees, so you can install a trellis on any section of your raised garden bed. Plus, the nylon mesh netting and stainless-steel framework are strong enough to support even the largest veggies.
Stack, Extend, & Customize
Looking to add a little something extra to your garden this year? Check out Design it All, our 3D design tool that allows you to customize your own raised garden bed! You can choose the height and size of your bed, as well as add in plants and accessory kits to get an idea of exactly how you want your gardening season to go. Plus, our team is always available to answer any questions you may have along the way. Try it out and if you have any questions, send one of our design experts a message (Support@Frameitall.com).
Improve Your Soil
Looking for a way to reduce your food waste and improve your garden soil at the same time? Then vermicomposting may be for you! Vermicomposting is a process of using worms to break down organic matter, such as food scraps and lawn clippings, into nutrient-rich compost. Not only does this reduce the amount of waste sent to landfill, but it also creates a beneficial amendment for your garden.
The Worm it All Composter makes vermicomposting easy by bringing the power of worms directly into your raised garden bed. Simply add compostable materials to the box and watch as the worms get to work creating nutrient-rich compost. So why not give vermicomposting a try? It just might be the key to reducing waste and improving your gardening success!
Companion Planting
Companion planting is a technique that has been used for centuries to improve yields and reduce pests in gardens. The basic idea is to plant different species of plants near each other so that they can benefit from each other's presence. For example, some plants release substances that repel pests, while others attract beneficial insects that help to pollinate or control pests. Additionally, some plants help to improve the quality of the soil, while others provide shade or wind protection. By choosing the right combination of plants, gardeners can create a more diverse and productive ecosystem. Our Plants Friends & Enemies chart is a great resource for finding companion plants that will work well in your garden. Our Know Grow Guide has even more information on best gardening practices to have the most success this season!
Why Shop With Frame It All for Your Garden Bed?
Anthony Topping, founder of Frame it All, designed this modular raised garden bed system to allow his customers to design a garden that would fit perfectly with their existing garden or landscape. The system is made up of modular boards that can be arranged in any shape or size, and the height of the panels can be customized to suit the needs of the individual gardener. The system is also easy to assemble and disassemble, making it idea for those who want to experiment with different garden designs. With its versatile design and easy assembly, the Frame it All system is sure to revolutionize the way people garden.
A NOTE FROM ANTHONY ON THE DESIGN OF THIS PRODUCT:
"The Garden Star is one of the most stunning of all the endless designs you can create. It's the perfect centerpiece. Traditionally, boxwood hedges have been used to outline and create formal garden designs. With Frame It All you have the ability to create complex layouts with materials that are simple to install and will last for years without any maintenance!" – Anthony
Warranty and Product Registration
Register your Warranty: Please email the following information to support@frameitall.com
Name of the Vendor/Website where the product was purchased?
Purchase Order # or Order #?
SKU # and Quantity of the Product(s) that were purchased?
First and Last name of the person associated with the order?
Best Phone Number to reach you?
Garden Star Garden Parts List:
for SKU's: 300001160, 300001161, 300001162, 300001163, 300001409
18 - 44.50 Inch Long Composite Raised Garden Bed Straight Boards
36 - Snap-Lock Raised Garden Bed Stacking Brackets
18 - Stacking Stakes
12 - Solid Finishing Caps
72 - Plugs / Locking Nubs
Soil Recommendation: 48.5 Cubic Feet