Regular price
$34.99
Sale price
$27.99
Unit price
per
Sale
Sold out
View full details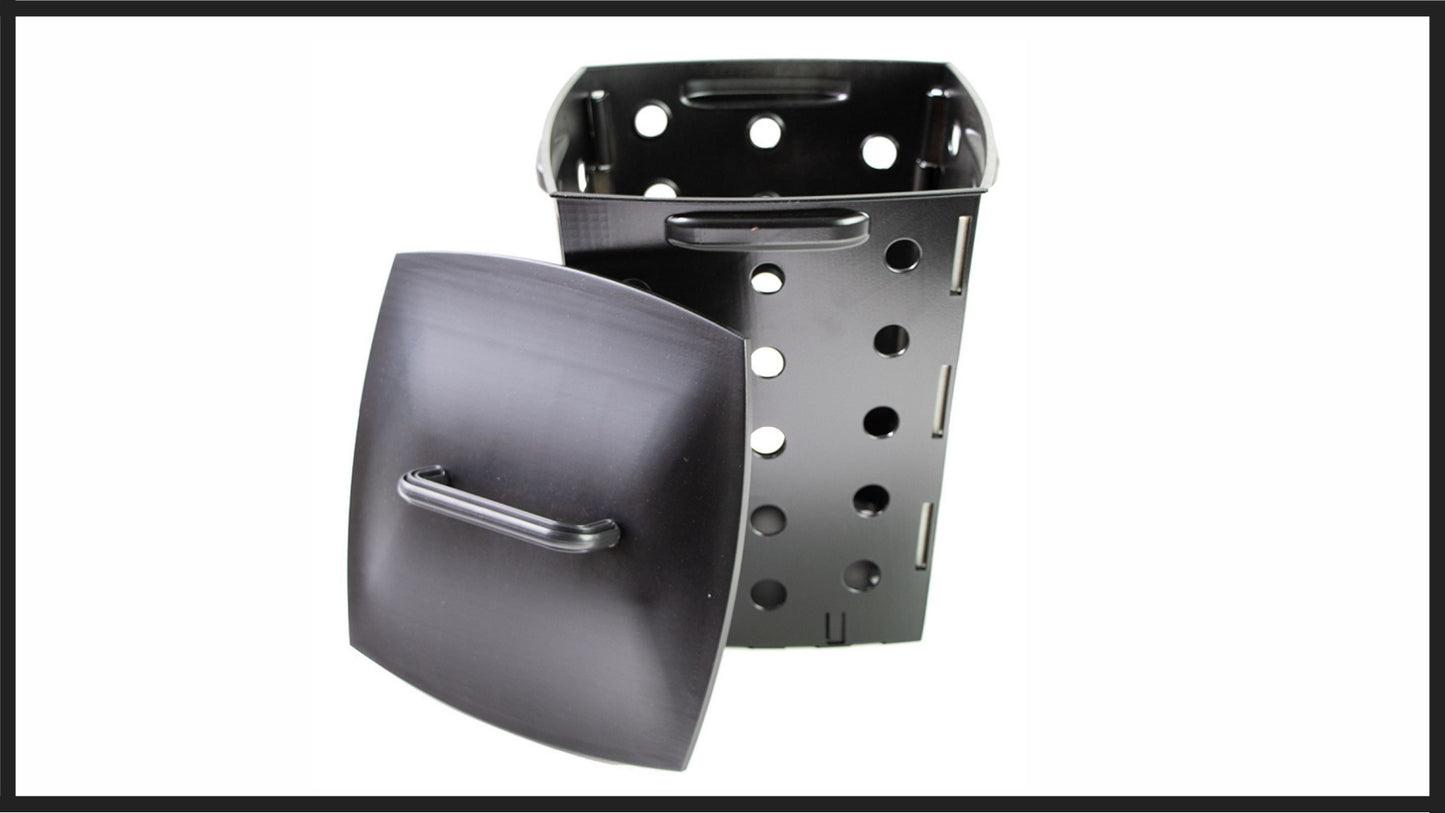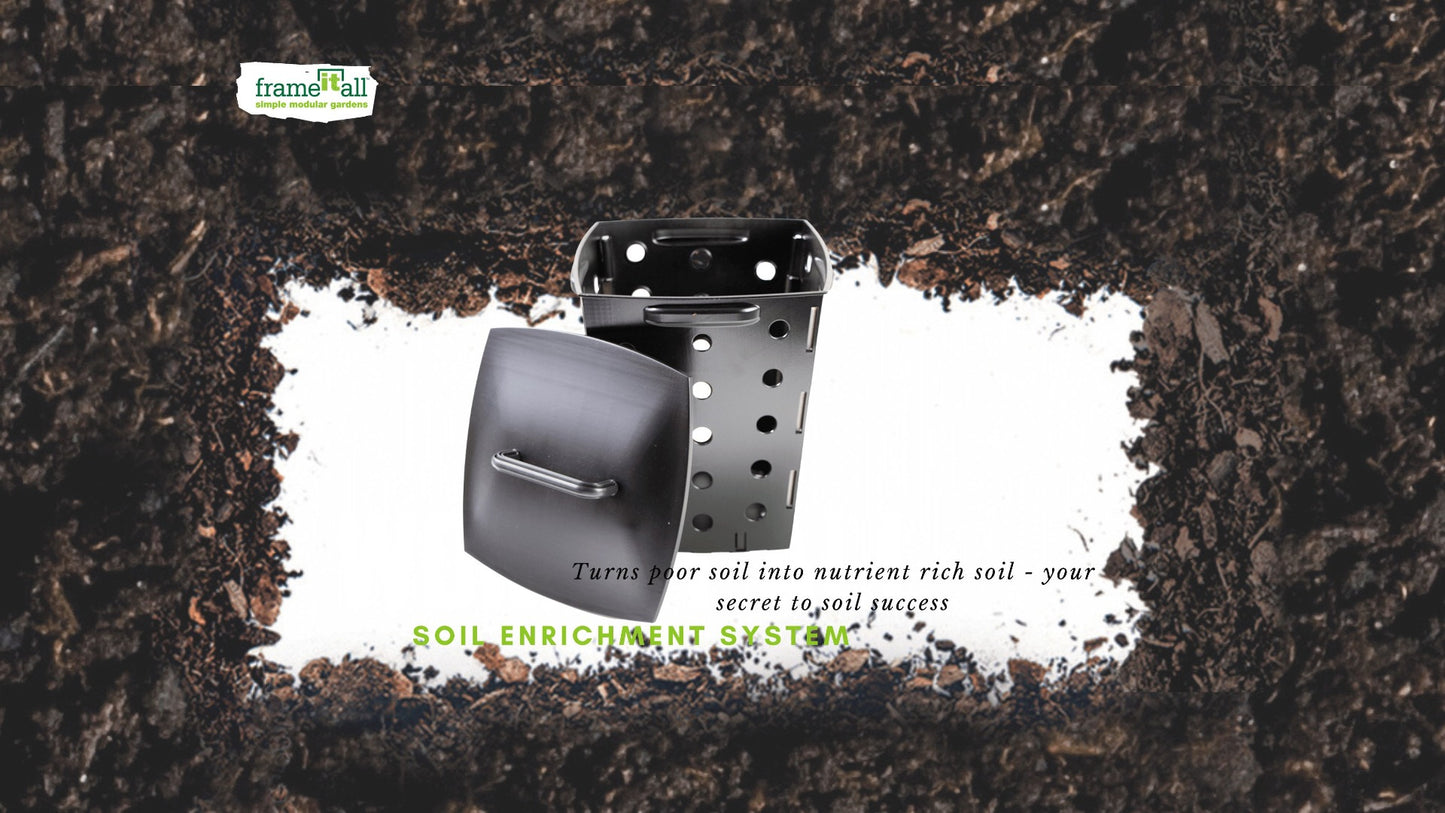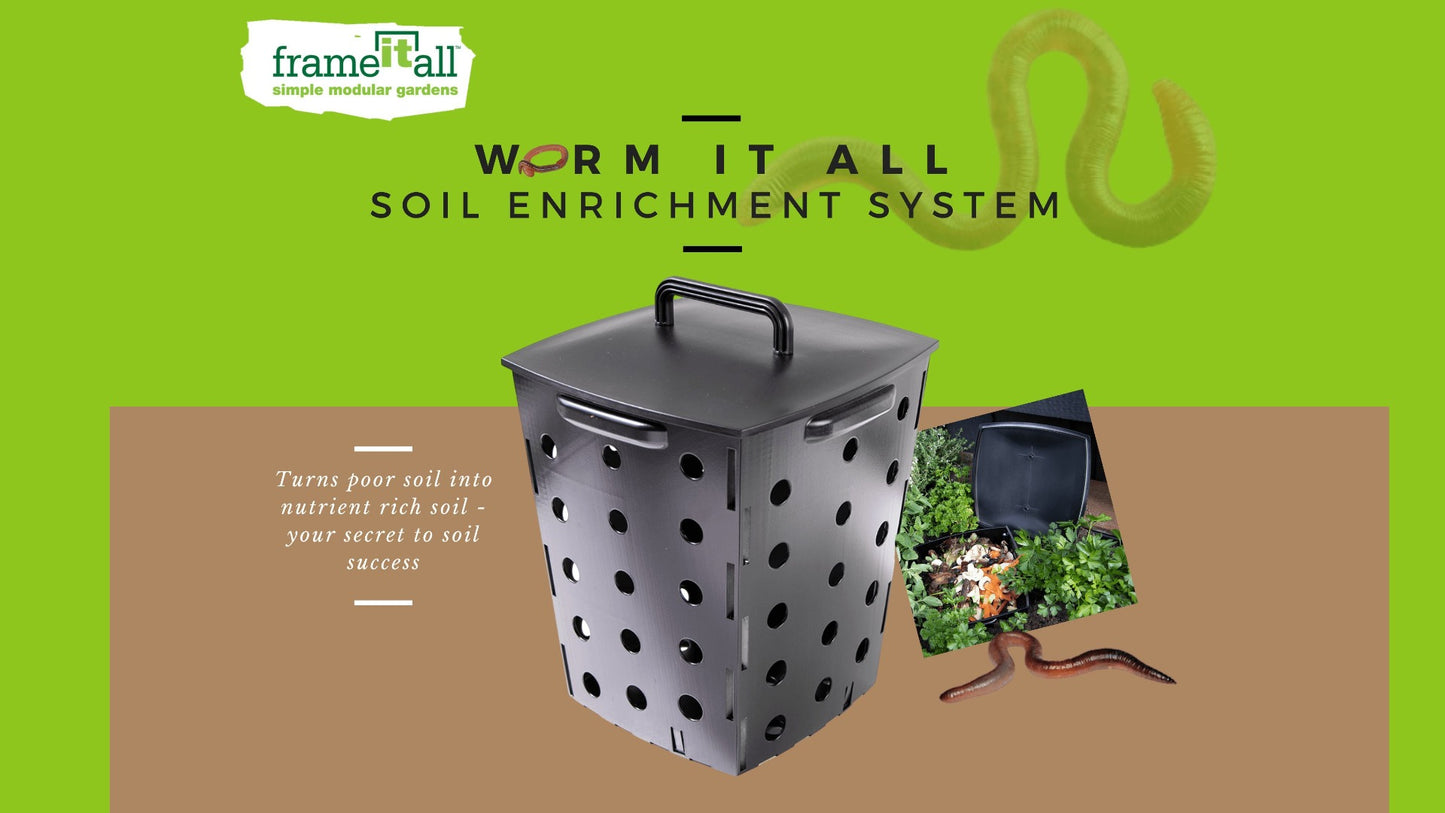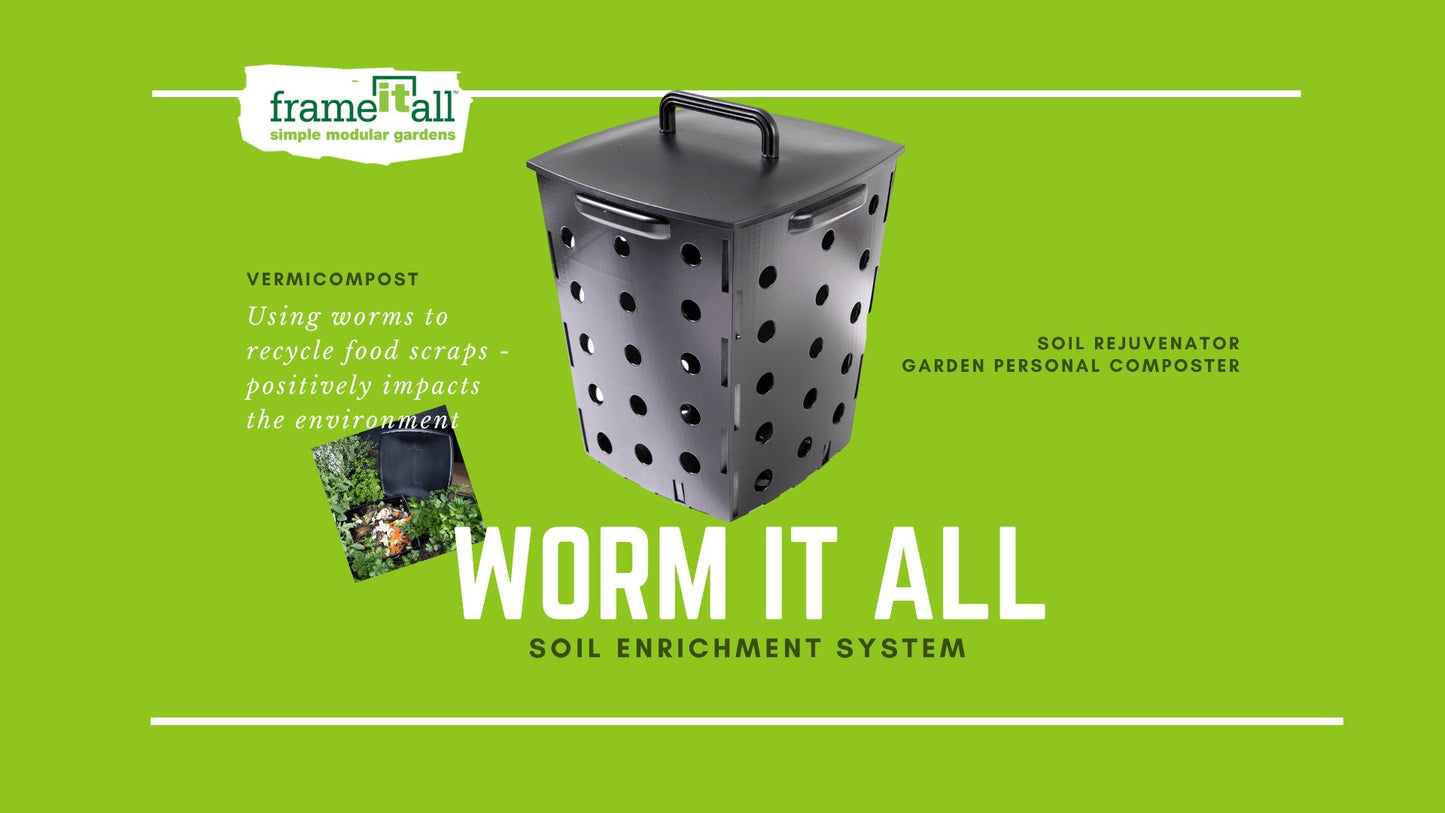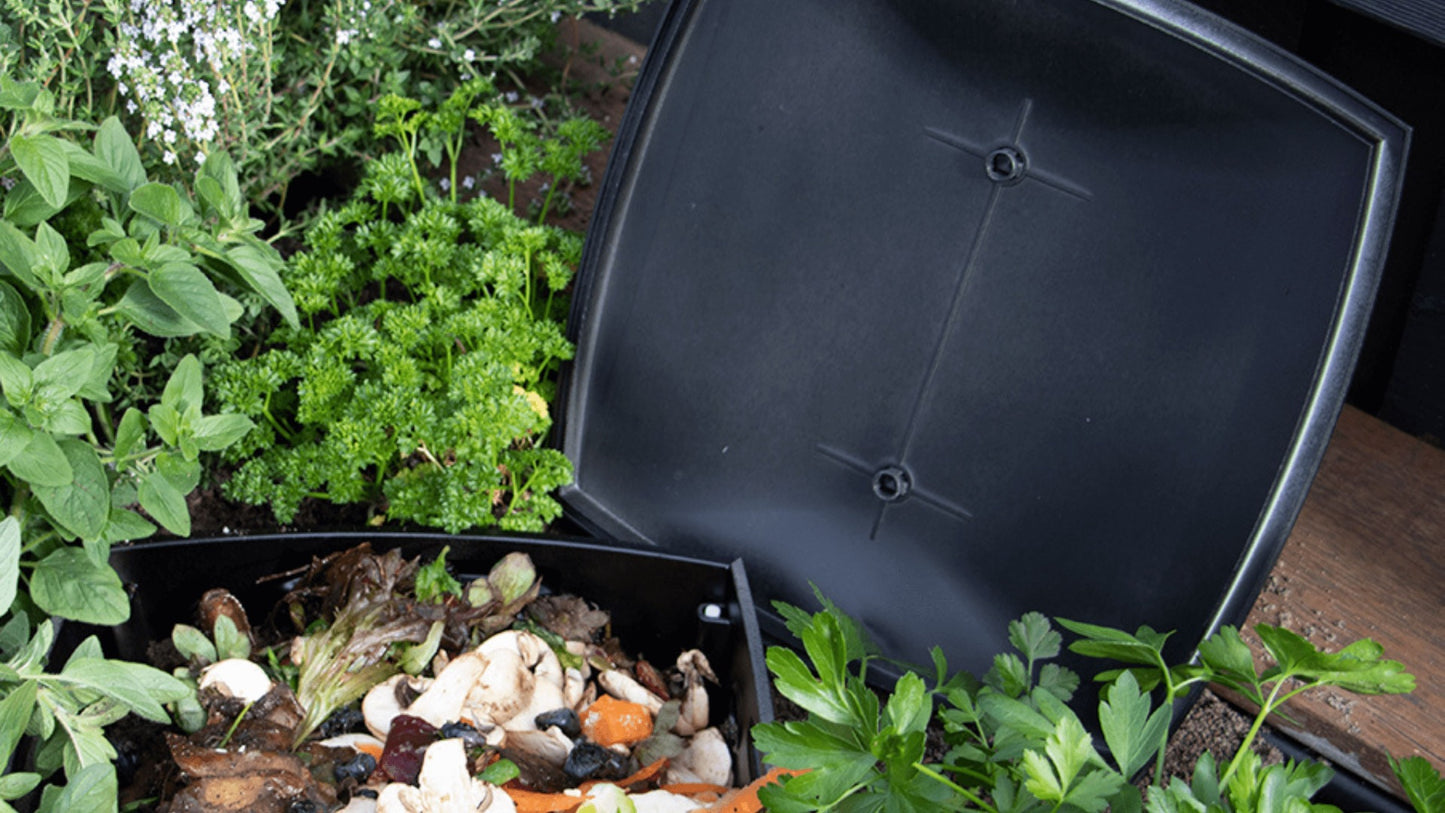 Features
Easy to assemble and install
Compost worm access holes
Snap-Lock lid to keep pests out
12 liter capacity
Faster than regular composting
Enrich soil naturally
Recycle organic waste into rich fertilizer
Product Description
Our worm composter box is the perfect size for small-scale in-ground composting treatments. This handy 11" x 11" x 12.6" worm compost box can hold a super mix of organic bedding materials and vegetable scraps to create the perfect soil enrichment for your plants and flowers.
This Worm It All comes fully assembled, with no additional tools required. Consisting of 100% recycled plastic with side panels containing convenient worm access holes, it's a stylish yet minimalistic addition to your raised garden bed.
The worm composter makes it easy to compost and boost your gardening experience. Our bins give worms the space they need to break down scraps and create valuable compost that you can easily access anytime for your garden.
Build a Worm Compost Bin System Right in Your Garden!
This worm composter box is designed to efficiently compost and transform your kitchen scraps into nutrient-rich, earth-friendly fertilizer. If you're looking for an easy way to integrate vermicomposting and worm castings into your garden (without the DIY!), then this is great for you.
The unique design allows easy access to waste from the top of the unit when needed. Simply remove the top cover to add organic matter or remove food waste for use in your garden. Then, the worms do what they do best and make valuable compost for your garden.
Quick and Mess-Free
This ready-to-use worm box is quick and mess-free. It allows you to turn your kitchen waste into valuable compost in just four weeks.
The holes on this composting worm bin are essential for letting worms in and out quickly so that they can release their worm castings into the soil for better composting. In addition, the aerated underground side-panel design on these compost bins reduces odor, keeping your garden smelling the way you want.
Similarly, the easily removable top lid with a handle on these worm composting bins makes it easy to feed organic matter into the box while keeping unwanted pests out. As a result, the finished compost is pest-free and ready to boost your gardening efforts.
Looking For More Than Just a Worm Composter?
You can find a vast range of gardening beds and accessories at Frame It All. Whether you are growing herbs for your kitchen, flowers for your yard, or vegetables for your table, we have everything you need to create a more efficient and enjoyable gardening experience.
If you're looking for a worm composter with a raised garden bed, the Worm It All comes with our keyhole raised garden beds. If you're looking for something else to add to your yard, be sure to check out some of our customer favorites:
HERE'S A NOTE FROM ANTHONY ON WHY HE DESIGNED THIS PRODUCT:
"The soil in every garden benefits by the lowly earthworm taking up residence; which is why I try to incorporate a Worm Box into my raised garden beds, space permitting. Increase the size of your raised garden bed by adding additional kits which can stack and connect to expand your garden over time? It' s so easy. No need to move soil – just stack onto your raised garden and fill with more soil or, to increase the length swing out one side board and add additional boards." – Anthony
Worm It All Composter Bin Parts List
for SKU's: 300000075, 300000400, 300000434, 300000450, 300001076
(4) Side Panels with Access Holes
(4) Panel Rods
(1) Bottom Board
(1) Top Handle
(1) Lid