Regular price
$64.99
Sale price
$51.99
Unit price
per
-20% OFF
Sold out
View full details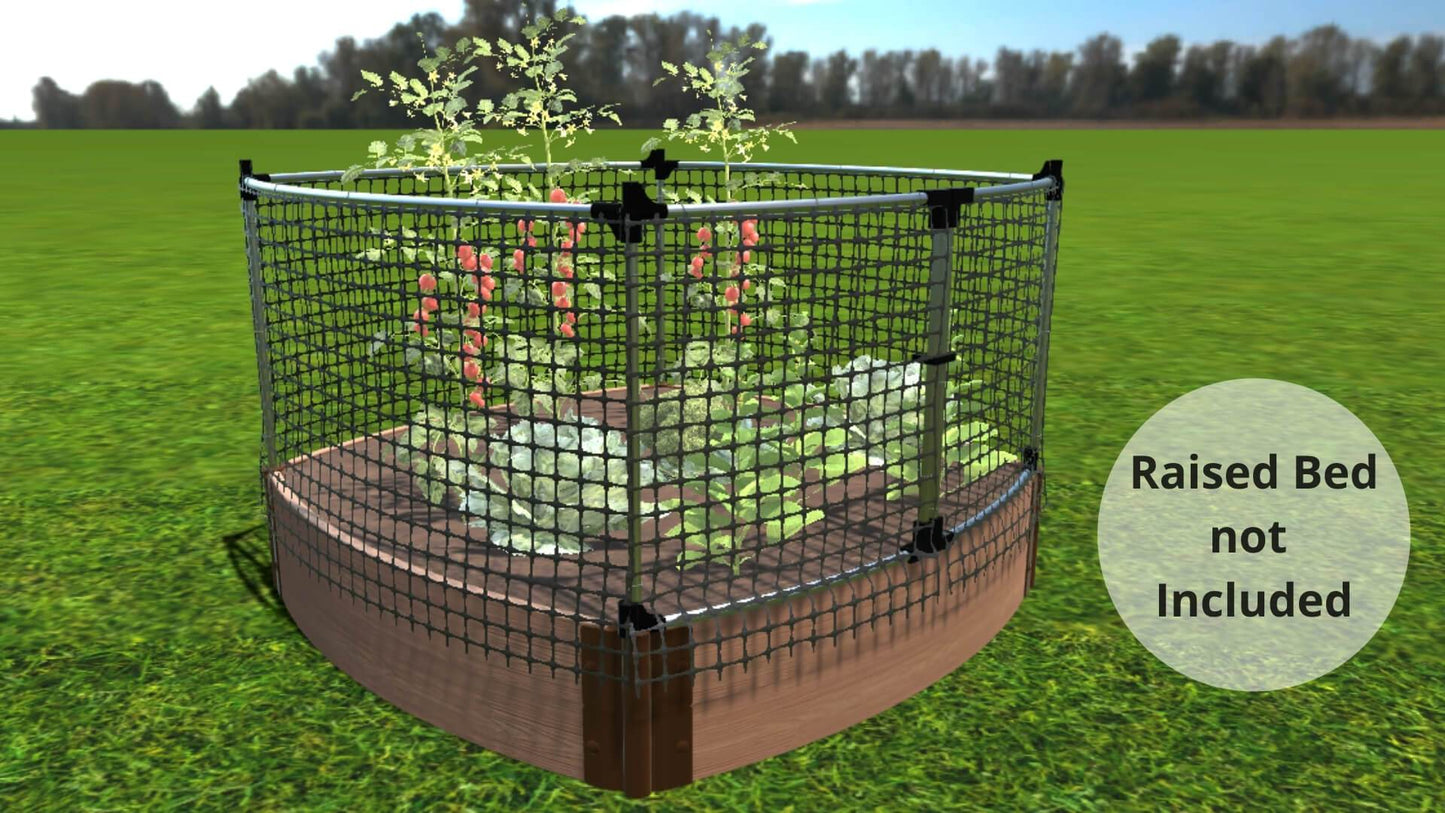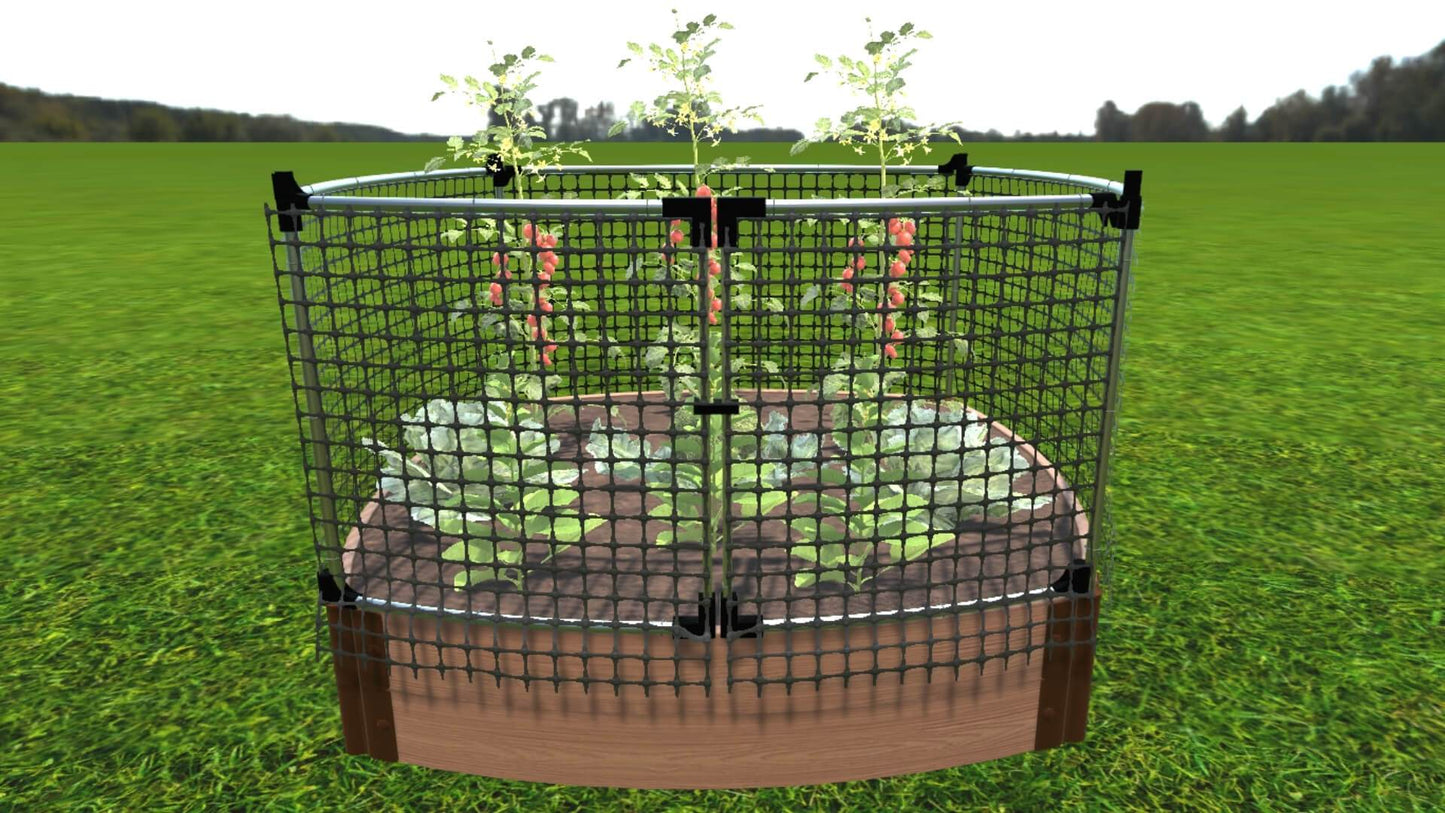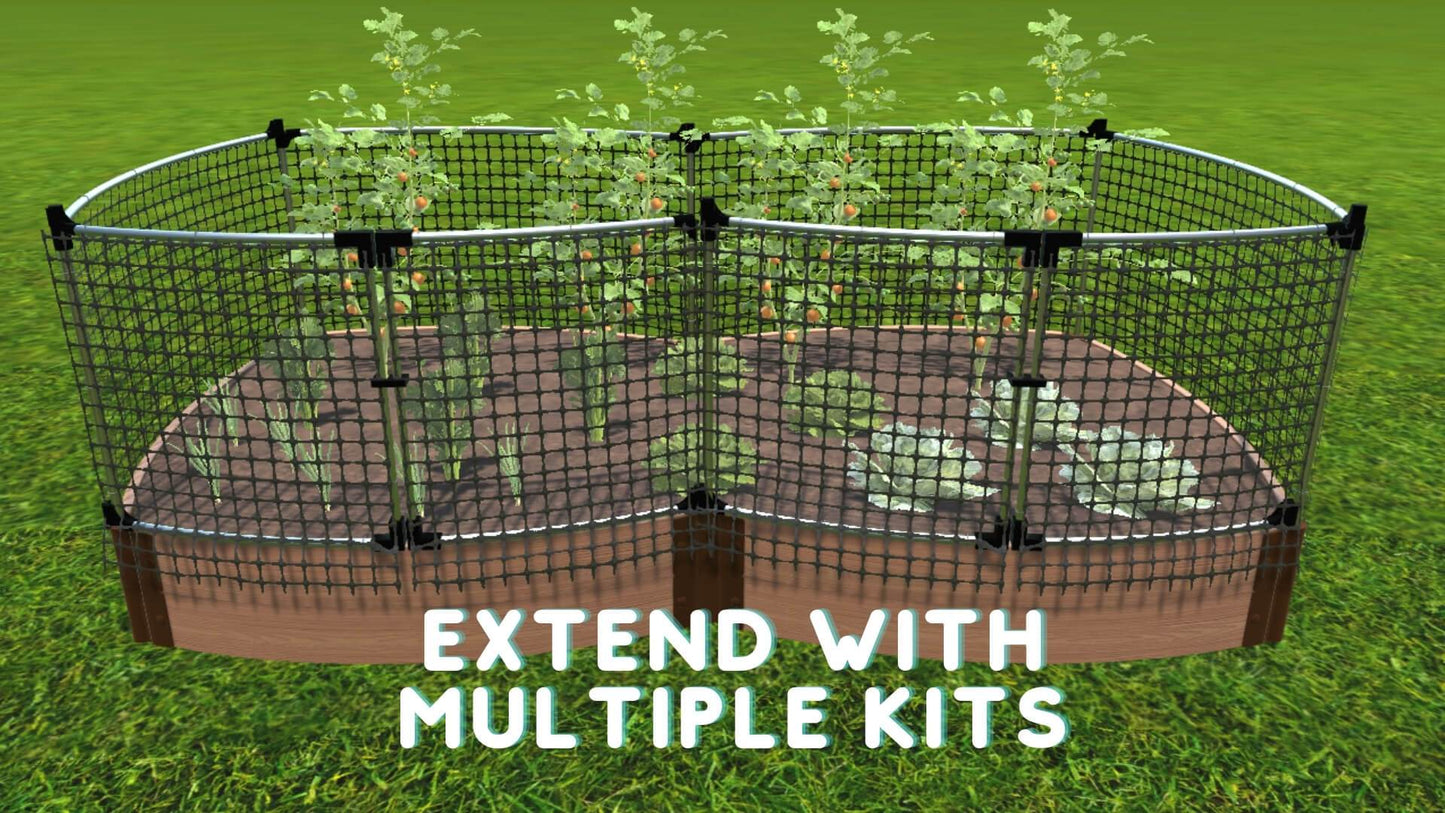 Product Features
Connects to anchor or stacking joints in Frame It All 4' Curved Raised Garden Beds (for other applications, stake directly into the ground)
Durable plastic and stainless-steel construction
Keeps out small to large sized animals
Gate allows for easier access than traditional animal fencing
Constructed from stainless steel uprights and heavy-duty netting
Will not harm pets or wildlife
Integrates with Frame It All 4' Curved Veggie Wall
Easy to install
1-year warranty
Product Description
The Curved Animal Barrier Kit

Growing your own fruits, vegetables, and herbs can be a rewarding experience. But it can also be frustrating if you have to constantly contend with animals pilfering your hard-earned harvest. If you're looking for a way to keep critters out of your garden, Frame it All's Animal Barrier kit is a great option. This customizable fence can be fitted onto nearly any Frame it All design, making it easy to create a space that's both aesthetically pleasing and functional. The barrier is made from powder-coated steel, so it's tough enough to withstand repeated use. Plus, it's easy to set up and take down, so you can adjust the size of your barrier as needed. Whether you're dealing with pesky rabbits or gophers, the Frame It All Animal Barrier kit is an effective way to protect your garden.
The rigid mesh netting will deter animals, while the stainless-steel framework ensures that it will hold up against even the most determined pests. Each kit comes with a 4ft gate section, so you don't have to bend over uncomfortably to access your garden bed. Plus, it comes with a 1-year guarantee for added peace of mind. So why wait? Get this animal barrier today and keep your garden or yard looking great.
Install on Terraced gardens or in-ground
Our curved animal barrier kit can be installed over any Frame it All curved board and can connect to our straight 4ft & 2ft animal barrier kit too! Each of these kits will have a fence section that stands 2ft on top of the height of your raised garden bed. By combining multiple kits you can fence off nearly any garden design you can think of. If you're assembling on a terraced design, use our Terrace Connectors to connect the animal barrier across joints of different heights.
Our animal barrier kits can also be installed directly into the ground if don't have a Frame it All raised garden bed kit. For the firmest ground connection, we recommend you use our Stacking Stakes in combination with the animal barrier poles. The poles of our animal barrier kits are designed to insert into the top of our stacking stakes allowing you to have a more stable ground connection for your fencing sections.
If you've been having issues with deer getting to your garden then you may be looking for a taller fence. Well you're just in luck! The Frame it All Animal barrier kit can stack on top of itself to reach a 4ft fence height. The gate sections can also stack on top of each other so you can still access your garden without having to crouch through a small fence opening.
Design it All
If you're not sure how many animal barrier kits are required for your garden bed design, we recommend you try out our 3D design app, Design it All . This tool will allow you to build your garden right on your computer and then drag and drop animal barrier sections onto. Once you've fully surrounded your garden you can send the complete part list to checkout to purchase your complete animal barrier.
Many deer experts agree on the notion that deer will not jump over a fence if the area inside is too small. When they can help it, deer will avoid jumping into enclosed spaces. What this means is that by surrounding your garden with fence section directly around the perimeter, deer will be deterred from jumping over and into it.
Here's a note from Anthony on why he designed this product:

"With the addition of our curved animal barrier kit, the Frame it All fencing system is now completely modular! We have an animal barrier kit for any board shape and size and the best part is they are all modular with each other! Now you can protect beautiful curved designs like the Versailles Sunburst or Roundabout!" – Anthony
Warranty & Product Registration
Register your Warranty: Please email the following information to support@frameitall.com
Name of the Vendor/Website where the product was purchased?
Purchase Order # or Order #?
SKU # and Quantity of the Product(s) that were purchased?
First and Last name of the person associated with the order?
Best Phone Number to reach you?
Animal Barrier Parts List
4' Curved Panels
Part #1 (2) - Corner upper hinge L-connector - Top
Part #2 (4) - Corner upper hinge T-connector - Bottom
Part #3 (1) - Upper gate hinge connector - Top
Part #4 (1) - Upper gate hinge connector - Bottom
Part #5 (2) - Upper gate hinge connector - Sleeve
Part #6 (1) - Lower gate hinge connector - Top
Part #7 (1) - Lower gate hinge connector - Bottom
Part #8 (1) - Lower gate hinge connector - Sleeve
Part #9 (4) - L square connector
Part #10 (1) - Gate latch
Part #11 (2) - Gate stopper screw
Part #12 (1) - Gate stopper
Part #13 (4) - Tube cap
Part #14 (50) - Zip ties
Part #15 (1) - Long netting
Part #16 (2) - Square netting
Part #17 (2) - Vertical square gate tube
Part #18 (4) - Horizontal square gate tube
Part #19 (3) - Upright horizontal tube
Part #20 (4) - Vertical round tube
Part #21 (4) - Raised garden bed 2'' brown adapter snap caps, (4) Raised garden bed 1'' black adapter snap caps
Part #22 (1) - Round sleeve (Use this part only if joining 2 or more kits to extend animal barrier)